Directed Private Donor Program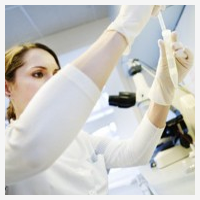 Repro Lab offers this program to patients interested in using a donor known to them, for assisted reproductive procedures.
Screening
All directed donors must be found suitable candidates to enter this program. They will be tested as rigorously as anonymous donors. The screening process includes completing a detailed medical history questionnaire, a physical examination, genetic screening, tests for blood type, infectious diseases and semen analysis. Tests for infectious diseases must be completed 15 to 30 days prior to the first donation. The testing cannot be omitted or waived.
Quarantine
All specimens must be quarantined for at least six months prior to release to decrease the risk of acquiring infectious diseases.
Releasing Conditions
The directed donor must be retested for infectious diseases prior to the release of the semen. All test results must be negative at that time.
Please Keep in Mind...
Our semen bank is responsible for all phases of testing, processing, storage, and distribution of semen from directed donors. If a directed donor is found to be an unsuitable candidate for semen donation, then we have the right not to release his semen.