Cryo Sperm Bank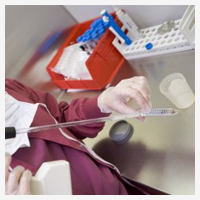 Welcome to Reprolabs. We develop, promote & sell systems, products & Services for the preparation, cultivation and storage of human cells & Tissue for assisted reproductive technologies.
Reprolabs is committed to providing Gynaecologists with wide range of state -of the-art-Andrology laboratory services for treating Male Infertility throughout the year.
Our team consists of experienced dedicated professionals with a common goal to help couples to full fill their dreams of becoming parents.
Reprolabs offers complete range of Andrology Laboratory services such as, Detailed semen analysis, Sperm Vitality, Semen Antibody antisperm, HOS, Fructose, Sperm Morphology, Semen processing for Intra Uterine Insemination, Auto conservation services with programs for short and long term storage, Semen Cryobanking services.
Additional services include Ovum cryobanking and also Embryo Vitrification and storage services.
Reprolabs is in full compliance with all relevant regulatory requirements as described by WHO & ICMR.
Reprolabs practises the standards and guidelines of ICMR for Donor selection, screening as well as for processing, testing & distribution of semen specimens.
All tests are performed in NABL, NABCB & TUV certified Laboratories.
The Semen Bank & Laboratory Director is a Clinical Embryologist with years of experience in Embryology; the Medical Director is a Gynaecologist specializing in infertility; all our Professionals are members of The American society of Reproductive Medicene.
All our laboratories are open 7 days a week, 365 days a year, on weekdays from 9:30 a.m. to 8:00 p.m. and weekends & holidays from 10:30 a.m. to 01:00 p.m.